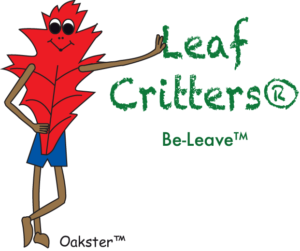 One Passion | The Nature of Our Schools
The nature of our schools has changed throughout the decades. It has changed from the one-room schoolhouse in rural America, to the technological online school of the web. Once rooted in agricultural tradition that everybody understood — we now need to reeducate and reconnect with our natural world. Enter Leaf Critters® to help reestablish our "naturalist intelligence."
Above, you see Oakster™ our spokes-leaf for Leaf Critters®. "One of the 8 intelligences is 'Nature Smart.'" It is important to be connected with the natural world.  You can grow your naturalist intelligence* by learning your trees.  And that's as easy as meeting new friends with the animated Leaf Critters® characters. Buy a kit, become familiar with many of the trees in the US, and get back into nature!
Click on "Brochures" to Learn Your Trees with the Leaf Critters®.
Read Our Story and meet Shuggie™!
(*This intelligence has to do with observing, understanding, and organizing patterns in the natural environment.  A naturalist is someone who shows expertise in the recognition of plants and animals. www.education.jhu.edu)