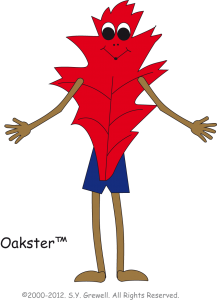 NOW OFFERING – 3 products through Nature Watch!
Click below to go to the link:
http://www.nature-watch.com/leaf-critters-p-1675.html
ALSO – If you've already purchased a set, click on the "How to Use Your Kit"  link above.
I'm Oakster™, the spokes-leaf for the Leaf Critters®. So, do you know your trees? One of the 8 intelligences is "Nature Smart." You can grow your nature intelligence – It's as easy as meeting new friends with the animated Leaf Critters® characters. Buy a kit, become familiar with many of the trees in the US, and get back into nature!
Click here to meet Shuggie™ and to read Our Story.