Two Paths – One Passion | The Nature of Our Schools

.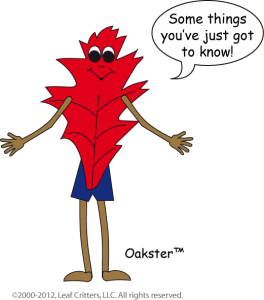 The nature of our schools has changed throughout the decades. It has changed from the one room schoolhouse in rural America, to the technological online school of the web. Once rooted in agricultural tradition that everybody understood — now we need to reeducate and reconnect with the soul of our land. Enter Leaf Critters® to help reestablish our "naturalist intelligence."
To the left you see, Oakster™, the spokes-leaf for Leaf Critters®. "One of the 8 intelligences is "Nature Smart." It is important to be connected with the natural world.  You can grow your naturalist intelligence* by learning your trees.  And that is as easy as meeting new friends with the animated Leaf Critters® characters. Buy a kit, become familiar with many of the trees in the US, and get back into nature!"
Click on "Pray for My School" to understand the missive behind the invitation "Would you pray for my school today?"
Click on "Brochures" to understand the call to "See the Tree™" that Leaf Critters® call home!
"Click here to meet Shuggie™ and to read Our Story."
(*This intelligence has to do with observing, understanding, and organizing patterns in the natural environment.  A naturalist is someone who shows expertise in the recognition of plants and animals. www.education.jhu.edu)