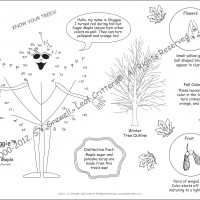 Five Leaf Critters® are designed as one-sheet activity pages that can easily be handed out, colored-in, and discussed during an after school program. Use anytime from the spring to late fall. Great for Earth week, National Arbor Day, Summer Camps, and Fall Foliage finding!
Here's what each student gets: Five Leaf Critters® characters (Shuggie™ Maple, Oakster™, Sassie™, Pinen™, and Tulie™ Poplar) introduce their home trees vividly and in a fun-filled manner. — Consider using the Be-Leave™ pins as a reward for learning these trees.
On sale in a set of a half dozen (6 students) - that's 30 sheets - for $9.99!
A Leader kit is also available.