Hi – Maggie Magnolia here, with breaking news that the magnolia tree is shedding some of its leaves!
How can this BE???
We know that my home tree is an evergreen!
Well, check it out, each year some of the magnolia's leaves turn a beautiful bright yellow as they die off and leave the tree. This happens at the very same time that new growth leaves are emerging.
So, it's out with the old and in with the new – Take a look at the photo below to see it happening. – The new growth leaves are those at the very top of the picture and the yellow ones are the older leaves that are going to fall off soon.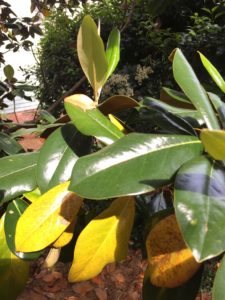 To answer the question, How can this BE?? (That is, the shedding of leaves from an evergreen tree) – the answer lies in the fact that it is the tree that remains green throughout the year – not the individual leaves.
Now, go see if you can find this tree in your neighborhood or school yard!