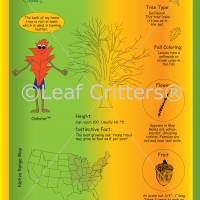 Northern Red Oak Poster w/Oakster™
Here is a great one-sheeter on our National Tree. Terrific to have in the classroom while you are using the Leaf Critters® Celebrate Trees program! This high color, glossy poster of our national tree can be displayed year-round as it represents the flower, leaves, fruit, and tree outline that exemplifies this tree throughout the year.
This product measures 17 3/4" x 24" and will arrive as a four-fold to cut down on shipping costs and the use of awkward shipping tubes.
FREE with most orders (comes folded).